Hello!
I am so excited! It's my turn to cook from a Gooseberry Patch cookbook that YOU will choose for me. If you haven't popped over to the Real Farmwives of America and Friends site to vote, you can
click here
to do so!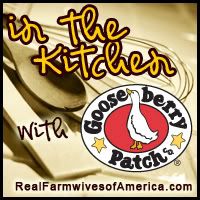 We are working on several new projects over at Real Farmwives and Friends. Just the other day a group of us met to check in and work on our blogs. I love these gatherings; I learn so much from everyone, and it's just nice to have some girl time! Look for fun daily themes and posts from us this summer!
Did you see our newest feature focusing on
Home and Garden
for Mondays? Miss Ott, A. is collecting all kinds of great ideas to share with our readers. I know I am going over there regularly to get some ideas for the landscaping project I'm taking on this summer. Stay tuned for more about that later this week.
Have laptop, will blog! These ladies are awesome, and I hope you are getting to know them through RFOA&F!
If you are new to my blog, let's take a minute to become better acquainted. Tall Guy and I farm about 1800 acres of corn and soybeans up in northwestern Indiana, a county north from PURDUE! and about ten miles from Illinois. Take a look around the
farm here
.
We also raise around 100 feeder calves. That means we buy them when they are just weaned, around 5-600 pounds, and feed them until they are ready to go to market, around 1200-1300 pounds. They can be a trial some times,
like this lovely day
, but they sure taste good on the grill. Let us know if your freezer will have enough room for a 1/4 or 1/2 or whole beef this fall.
In addition to corn, soybeans, and cows, we are raising two little girls ;-) Tink is two days shy of finishing second grade, and Bear is a newly graduated kindergartener. Look out first and third grade!
Did I mention I just turned 49??????
Dang! Yep! Not sure how that happened, but it did.
It does get kind of crazy around here sometimes, but it's all just the way I dreamed it would be when Tall Guy and I married almost ten years ago. Well, except for maybe that new chick in the mirror who keeps waving back at me!
Who is she?
People always tell me, "You are only as old as you feel."
EXACTLY!
Ok, more about aging later!
Another cool fact about us is that we are smack in the middle of windmills. You can see all the fun of watching them go
up here
.
I really am looking forward to cooking with you this summer. It's time for my girls and I to spend quality time in the kitchen learning the basics like I did from my grandmas and my mom. Tink loves to lick the batter in the bowls,
just look at her face here
. Our Little Bear can make a pretty good cheese quesadilla, but I want them to learn more. They will be helping me in the kitchen. This whole process takes about ten days to get underway, then I will cook eight recipes from the book of your choice. At the end of the last recipe, I will give away a copy of the cookbook you picked to a lucky reader. HOW FUN IS THAT???
Along the way, I will tell you a bit about the great cooks in my life and give you more sneak peaks into my life, like showing you my one-of-a-kind kitchen.....but that will wait for another day.
Today, I am off with Tink's class to visit Fair Oaks Dairy, a wonderful place to visit just a county north of us. I am sure I will have to bring a cooler on the bus so I can bring home some of that great cheese. I'll show you the loot and some fun pics when we get back.
Have a great day, and make sure you click on the button at the top of this post to help choose my new favorite Gooseberry Patch cookbook!!