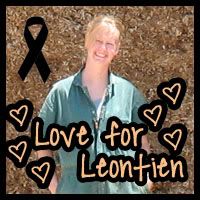 As many of you, my dear readers, know, I am a member of Real Farmwives of America & Friends. We are a group of women, mostly from Indiana, but we branch out east and west, and our connection is agriculture. Some of us work at jobs that are ag-based, some of us are wives of farmers, and some of us even get to DO some of the farming along side our husbands.
In a ag community, sometimes a farmer runs into health troubles, and it will make the news because other farmers will stop what they are doing in their own fields, haul all their equipment to that farmer's farm, and bring in the crop. It's kind of what we do. Now it's our turn at RFOA&F to help out one of our own who could use some love and support.
You know, I have only have maybe 4-5 face-to-face meetings with Miss Leontine in my life, but this is one lady you do not get to know..... you just KNOW her from the get go. I have never met a more determined, funny, optimistic, honest, talented, creative person. If you go to her blog, Four Leaf Clover Tales, you will fall in love with her stories, and you will take her right in to your heart. It just happens.
Leontine is a cancer survivor, but we have had news that she is not quite done with this battle. I am asking my readers to visit her blog, and leave her words of encouragement as she gets ready for some challenging days ahead. Take a little time and get to know her through a few of her blog posts. " Living My American Dream" and "Cancer Kicking and Panties with Skulls" are two great re
ads. We have also created a fan page just for Leontine: Love for Leontine
You can go there too, LIKE her, and keep the love going.
She is going to be blown away from all this love and support. Our kind words, love, and prayers can only lift her higher. If you are involved in a prayer chain, please include her name. If you are one of Leontine's readers/followers and would like to do more, send me an e-mail. I have an idea for you.
Thank you for helping us lift up our friend. Our blogging community is blessed to have Leontine with us, I am blessed to know her, and the world is blessed to have her here with us being such a great steward of the land and its animals.