Yep, I'm baking again! It sure has been a while, but our church had a fish fry, and I was asked to bake a pie. Tall Guy gave me some pretty sad eyes, and I knew what that meant. He wanted a pecan pie. So I dug out Mom's recipe, that he loves, and went to town, figuratively then literally when I figured out I didn't have enough Karo syrup for two pies!
Here's Mom's recipe made with....
now don't go shaking any fingers at me.......
Pilsbury's finest pie crusts!
Hey! They are GOOD!
3 eggs, beaten
1 Cup sugar
1 1/2 t. vanilla
1 Cup Karo light corn syrup
1/4 Cup butter, melted
1 1/2 C. Pecans, chopped
1 9-inch pie crust, unbaked
Mix first 5 ingredients together,
Adding the Karo syrup to the eggs and sugar
Chopping the nuts. Do you have one of
these choppers
? They are the BEST to chop a variety of foods, and it's great therapy too. You do have to watch how many times you smack the plunger, or the nuts can become very finely chopped! Mine is an older version of the new one I linked to, but they are a very handy gadget to have in the kitchen, and no electricity required. Just let your mind paint a picture, and start smacking away!
It's super simple to use, Just set the chopper over a small pile of nuts, and smack the top about 6-8 times.
LOVE IT!
Adding butter and vanilla and nuts.
Stir, stir, stir together. Probably should have opted for a spoon at this point as some of the nuts found their way inside the whisk. Not a big problem though.
Into the unbaked pie shell the little Dough-Boy made and start baking!
Pour all into the unbaked pie crust and bake at 350 for 50-55 minutes or until a knife inserted in the middle comes out clean.
Ta-Da!
Easy-Peasy.......except....
What you didn't see is me making the second pie, adding the cup of sugar, crinkling up my face, and saying....
well.....uhm.......let's just say I said, "DANG!"
Yep, I forgot to add the cup of sugar to the first pie. Of course that one became Tall Guy's pie because I was out of crusts and not going to make a third one that night. Amazingly he and my in-laws both said they liked it ok without the sugar?
Who knew?
I would probably add at least a half cup before going cold turkey on the no sugar thing ;-)
Linking up today to my Real Farmwives of America and Friends Miss Amy and Miss Liz over at Two Maids a Baking and Miss Jennifer From Mess Hall to Bistro.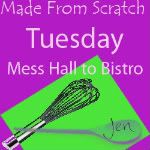 Last week we had a very fun "Sprinkle" for Liz and Amy over at A Latte with Ott. A. They are our newest mommies-to-be, and we gathered to help build each child's library since both are first time mommies-to-be. Stay tuned for news about Amy around the beginning of May and Liz around August.
Affiliate links were used in this post.